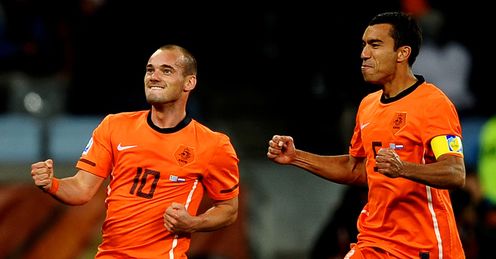 That the Netherlands made the World Cup final tonight in a display that never entirely convinced has perhaps been in keeping with their campaign.
The purists might not like some of their play, Mark van Bommel seems to be growing as a hate figure with every challenge, and at times tonight there seemed to be a nerviness to their play.
Funny thing though, they were favourites in a World Cup semi final trying to work out how to react to getting an early-ish goal. I'd be nervous.
But they got the job done. They've won six games on the bounce in the tournament, just as they won Scotland's qualifying group with a 100% record.
They're doing something right. Not total football perhaps, but totally effective so far.
And it wouldn't have been a 2010 World Cup game without a touch of controversy.
The second Dutch goal carried the whiff of offside. Wesley Sneijder hit the goal bound shot and Robin van Persie, looking a touch offside, stepped over the ball as it travelled in off the far post.
Should it have been allowed?
It's unusual that I let anything by the way of expertise get in the way of this blog. And in a concerted effort to continue that policy the best I can offer in the way of analysis is Graham Poll.
Writing on Twitter he proclaimed the goal should have been disallowed. Here's a selection of his tweets:
Back to offside. "daylight" never been req'd. That was Philip Don error 10 years ago. Slo-mo showed Van Persie foot just ahead of defender.

So RvP in offside position not interferring with play as no contact with ball. Not gaining an adv as ball didn't rebound to him. But...

RvP definately interferring with opponent as he steps over ball putting keeper off. Tough call for officials.
So he was offside. But I thought the crucial point was the "slo-mo" showed comment. The linesman's not got the advantage of sitting watching the game on the TV while getting paid by the Daily Mail (no links on a point of taste).
I put this to Mr Poll
who was kind enough to reply:
Great point and doubt existed so favour the attacker. Understandable but factually incorrect.
I like to think that this proves my initial feeling that the linesman had never considered Robin van Persie to be offside so any discussion of interfering with play is redundant.
Not a perfect decision. But an understandable one. Hopefully the linesman will not be vilified for it. Just one of those football things really.
In fact the more controversial decision may have come earlier when play was allowed to continue despite a needless van Bommel foul in the lead up to Giovanni van Bronckhorst's magnificent first goal.
And, of course, if only Mr Poll had access to me on Twitter all those years ago we'd never have seen that third yellow card.
> Good goals tonight. Diego Forlan's was a stunning strike but van Bronckhorst's edges it because the Dutch keeper got himself tied up in knots with bad positioning. The final Dutch goal, finished with a fine Robben header, wasn't half bad either.
> By my reckoning van Bronckhorst becomes the second World Cup semi final scorer to have played in Scotland at some point. Am I missing any?