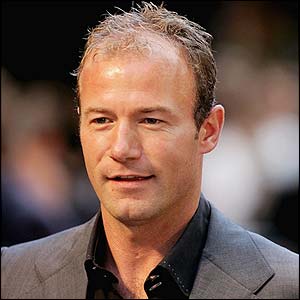 If you wanna be the best,
and you wanna beat the rest.
Oo-ooh! Dedication's what you need.
So the late Roy Castle reminded us each week as we were growing up.
The BBC's football team have remained the best at this World Cup and they've beaten the rest. But they've left many of us questioning their dedication.
The major problem the BBC have suffered from is laziness.
With little competition from commercial channels and no great threat coming from his fellow BBC pundits, Alan Hansen has become lazy.
He used to be one of the best pundits around and, at times, he still can be. But for the main part he prefers to slump in his seat giving the impression that he's thought very little about football for about 15 years.
By failing to keep Hansen motivated the BBC have lost their best asset. But it's the corporation's own laziness that has proved most wounding to their football coverage.
There is no excuse for the continued employment of Alan Shearer as a pundit. You would encounter more passion - and learn more about football - listening to the station announcements at Waverley for a day.
The BBC chose to stay with the team in South Africa after evening games rather than attempting to replicate ITV's James Corden car crash. That led to some decent features that at least made an attempt to link the tournament to its surroundings.
But it would have taken a dozen Pulitzer quality reports to atone for the decision to send Alan Shearer to a township to find out more about the legacy of Apartheid, a report so bad that my eyes and ears are still given to spontaneous bleeding.
To have such a prominent role at TV's biggest event and leave with your reputation further tarnished and yet more people convinced that you are all but devoid of redeeming features is quite a feat.
We can only stare in wonderment at how conclusively Shearer pulled that off.
In all of this Gary Lineker performed quite well. At times he was even moved to give his own opinions, appearing less awed by the autocue than he does on Match of the Day. The result was an improved Lineker who looked more relaxed than his ITV counterpart Adrian Chiles. The over reliance on bad jokes remains though and, like many of his colleagues, he has a tendency towards the smarmy.
Joining Hansen and Shearer, Lee Dixon seems over promoted in the role of main pundit. It was left to Jurgen Klinsmann and Clarence Seedorf to show how it could and should be done. Emmanuel Adebayor looked a token inclusion that added little to the party.
The great difficulty the BBC team seem to have is not coming over as unbearably smug, as the sort of self satisfied blokes night out that you'd move away from in the pub.
At times they failed. At other times they just about got away with it.
It's up to the BBC to improve on this. History tells us that the ITV are hardly going to lift their game for Euro 2012.
They need to find a way out of Alan Shearer's contract, avoid all British panels, persuade Gary Lineker that he was once a top class footballer.
And find a way of getting Roy Hodgson, the great success of World Cup punditry, on screen for much, much longer.