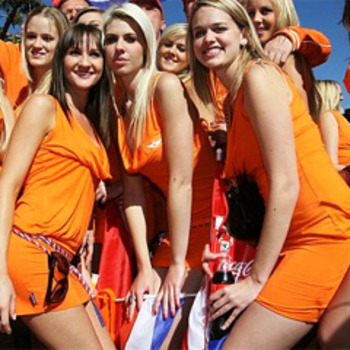 I was going to write a post giving my verdicts on the TV coverage of the World Cup so far. But I'll save that for now. (Sneak preview: poor.)
Instead I'll just ask: "Robbie Earle, what the hell were you thinking?"
Long, if not particularly distinguished, playing career leads to what is shaping up to be a long, if not particularly distinguished, punditry career.
It's all going right. If ITV use focus groups then they obviously have a bizarre preference for nervous looking former Wimbledon players with a fine line in studious blandness.
Still he looked effortlessly handsome next to Gareth Southgate, a man who first brings to mind the word equine and then various phrases involving knacker's yard and glue factory.
Anyway
Robbie's
blown it. And how:
"Following claims by Fifa that official 2010 World Cup tickets may have been used for ambush marketing, ITV has reviewed its entire ticket allocation for the tournament," said ITV in a statement.

"Immediate investigations indicated that a block of ITV tickets would appear to have been used for unauthorised purposes during the Holland v Denmark match," it added.

"Further enquiries have revealed that a substantial number of tickets allocated to Robbie Earle for family and friends have been passed to a third party in breach of Fifa rules."

It is understood that between 35 and 40 tickets allocated to Earle ended up in the hands of the marketing company said to have orchestrated the ambush marketing effort on behalf of the beer brand Bavaria via a third party.

Thirty-six women in orange mini dresses were ejected from Soccer City during yesterday's match when Fifa officials decreed they were part of an organised ambush marketing scheme. They were questioned for several hours until after the match had finished. Bavaria denied the women had any links to its campaign.
Robbie's been sacked with immediate effect.
He denies knowledge of what happened, blaming a "friend." Who was no doubt a big boy who then ran away.
And what the hell are ITV doing giving Robbie Earle 35 to 40 tickets for a game?
When I first read about Bavaria's ploy I was quite impressed. But then you hear that a marketing company was behind it all.
I bet these guerilla marketing men think they're quite the cool cats. But taking one corporate shilling to try and steal another corporate shilling is not all that, is it? It's hardly the stuff of Robin Hood.
One thing we have learned is that Robbie Earle is a prized tit. That will be why he fitted in so well in that ITV studio.