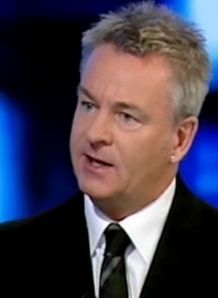 Although I have no particular insight into Gordon Smith's finances I suspect he was on quite a good earner in the years that he worked for the BBC.
Strange, then, to hear him turning into Rupert Murdoch's lapdog.
The old argument over which sporting events should be free to air has reared its ugly head again. And Smith has come out fightin
g
. The SFA need Sky's cash so Scotland's home games must be on pay TV. "Simple as that" says Gordon. The supporters? "Let them watch cack."
Sky are currently shelling out some £55 million for a four year deal with the SFA that starts next season. Smith's argument is that if Sky are out of the market the way is open for the BBC to offer a paltry amount that will still be more than their competitors at STV could afford.
Fair enough. But this overlooks the fact that right now Sky can offer more than the BBC can justify spending. A monopoly is fine as long it's the monopoly Gordon Smith wants.
We might also ask what the SFA is doing if its Chief Executive is basically openly admitting that the governing body of the national game is now entirely prostituted to Murdoch's millions:
To ignore the financial implications of this is extraordinary. For the SFA, our television deal is by far our biggest and most important source of income. If our matches were to become listed, then we would almost certainly end up in a situation where the BBC were the only bidders. As it stands, STV are just not in the market.

I used to work for the BBC and have no axe to grind with them. But why would they pay us the kind of money we are getting at the moment when they didn't have to? If this is pushed through by the government,the SFA believe we could see our level of broadcasting income halved after our current deal ends in 2014. It would impact badly on our work in football at every level, from the grassroots right through to the senior international side.
Smith might have no axe to grind with the BBC but I'm guessing he'll get a lot of positive coverage in a media market that most certainly does for this brave stance. Not that he'd have been thinking of that of course.
Indeed
The Scotsman notes that the panel asked to review the list of listed events contained former or current BBC employees David Davies, Colin Jackson and Dougie Donnelly
. True. But it strangely fails to mention that Davies was also a big cheese at The FA in England or that Donnelly has worked tirelessly for Scottish sport in a number of positions over the years and also works on pay TV golf coverage.
The Daily Mail actually calls Davies a former BBC "bigwig"
a fairly generous description of a career that took in a few years as an education correspondent and a breakfast tv sports presenter. And not even one that got on Strictly.
A little anecdotal evidence of my own. My preferred haunt for watching Sky only games was a bit quiet for Craig Levein's debut match in charge. In fact there were five of us. And I know that a lot of the regulars don't have Sky. They just didn't care enough to watch the game. There was a lot of empty seats at Hampden that night as well.
So if the nation loses interest - partly because they're starved of live action and partly because the team is so so poor - Sky will eventually walk away. At which point I guess Smith will go running to the BBC.
Ask yourself how seriously we can take the professed loyalty of an organisation that subjects us to the dream team of Jim White and Charlie Nicholas for every game?
I don't back Smith on this. The fall in revenue worries me. But I think it points once again to the massive mismanagement of football in Scotland by men like Gordon Smith. I think that's the more salient point to take from his latest litany of whimpering complaints rather than a conspiracy of BBC loving, lily-livered liberals.